Becoming a nomad
This is it people, I took the leap to becoming a nomad! I sold all my belongings in Germany and said goodbye for a very long time. Only have a backpack and a daypack with me. Right now I am in Bali, THE digital nomad hub. New adventure, let's go!
My first days as a nomad
My Hostel is in a quiet street but not far from cute cafes and Warungs (Bali restaurants). I am sitting in one of those cafes right now, writing this post. It's called CRATE and is close to my hostel. It still feels surreal, being on the other side of the world and totally free to design my day however I want it. But it's not been all paradise becoming a nomad. To be honest, my first three days were quite a struggle: from all the hectic traffic, to not sure where or what to eat, to party people in the hostel, to the heat and to the jetlag. It's a lot to take in when you have never been to Asia before. But after a few days I started to enjoy my new freedom and tried to get the hang of Bali life.
Achievements
First things first: I rented a scooter! Nearly crashed a couple of times, but hey, I am still alive!
Yesterday I did my laundry, which basically means you give it away to a shop and they wash and dry it for you. I guess only big villas have their own washing machine. I am quite happy to not have to do laundry though.
Of course I also tried the local food, like Nasi Goreng (fried rice with veggies) and the super hyped bowls. You can find all sorts of "western" food here. I guess that is the Australian influence.
Last but not least I made it to the beach… Those sunsets are amazing and totally breathtaking. At the beach there are small huts with beanbags in the front. Slurping your coconut it feels like you're at the open air cinema. Everyone is just there to watch the sunset.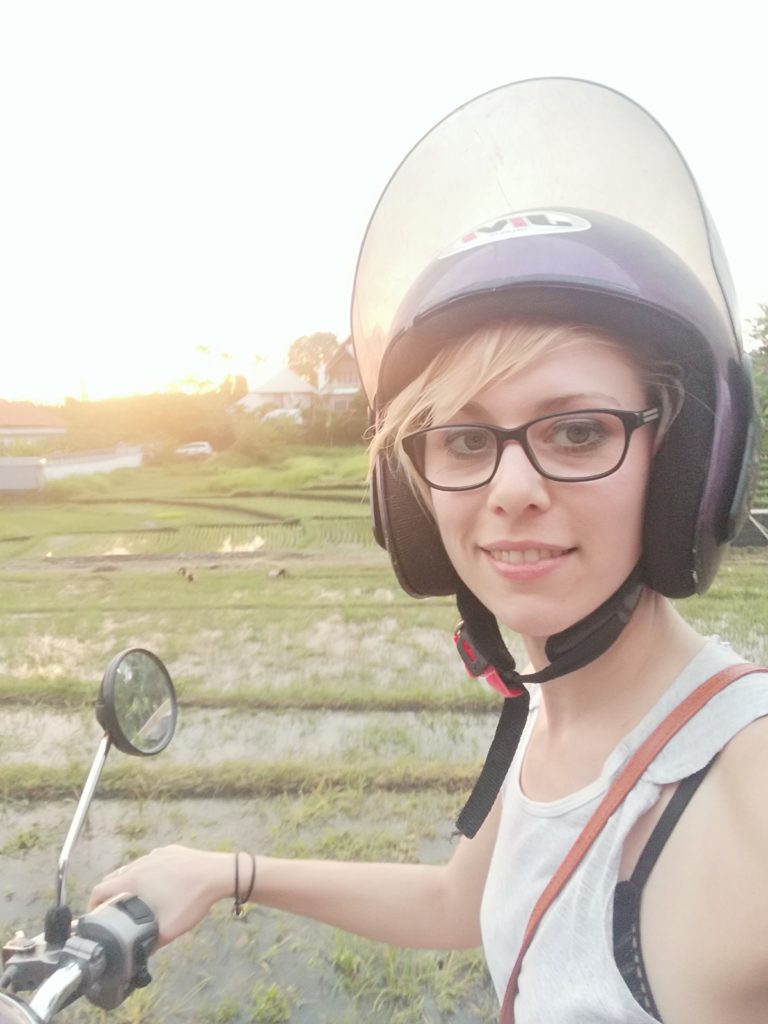 What's next?
I'm gonna head down to Uluwatu, the peninsula at the bottom of the island. There I can get my Visa extension at the immigration, so that I can stay for 8 weeks in total.
There are nice white beaches, like Melasti beach for example. Best place to watch the incredible sunset is the the beach club Single Fin. Just get a drink and make yourself comfortable at the sun beds and wait for it. Be aware of the monkeys though!
You will meet even more monkeys at the Pura Luhur Uluwatu, the temple at the west coast. You can enjoy a beautiful walk along the walls of it. Just make sure you cover your shoulders and your legs out of respect.
We also visited the Garuda Wisnu Kencana, a Cultural Park. It has huge stone sculptures inside as well as a temple. I would say it's definitely worth a visit!