Living in Brisbane
First things first: I bought a car! I really really tried to go everywhere by bike but yeah in big cities you kind of need a car. It's tiny and black and it drives perfectly! Right now it comes in really handy as I have been offered loads of Zumba classes around Brisbane, literally AROUND. So I'm driving quite a lot, usually about 45min each way, and EVERY time I get lost differently in the city centre! It's just really confusing with 4 lanes, 2 motorways and bridges and all. But so far I found the way out each time – or my phone did… But yeah, Zumba! I'm still super thrilled that a simple post in a Facebook Group did it and since last week I have my OWN classes in the East and also covering for some people the next weeks! But I gotta say, Australians are quite the Fitness Junkies so I have to up my game for them to be even slightly dead after my class – which they are asking for!
With my new car it was now possible not only to be flexible around the city but also to be able to see some places on the east coast. So I went up with two Spanish friends to do a sailing trip in the Whitsundays and a W4D trip on Fraser Island – and it was phenomenal!!!! Australias' sunshine coast is just really beautiful, crystal clear water and long white sandy beaches – a dream. Even though we had bad luck with the weather in the Whitsundays and were shattering with our teeth after snorkeling, we still enjoyed the boat ride, the sunset on board and a stop at Whitehaven Beach.
Side fact: we had a small incident with a pothole and a tyre…. Luckily an Australian driver stopped and came to our rescue and we even got the flat tyre fixed at the mechanics (BOSCH) for a bar of chocolate (and probably due to some fluttering eyelashes).
Roadtrip

Flat tyre

Whitehaven
Sailing trip

cat woman

Sunset
Second trip was right after – 10h driving back down to Hervey Bay – where we jumped into some pink 4 wheel drive cars and set off to Fraser Island! And lord did we have fun in the cars! I was the first one to drive through the soft sand and the car just pumped up and down, the girls were laughing their heads off and screamed – I don't think I went faster then 30km/h?! I should find out soon enough that sitting in the front behind the wheel is SO different to sitting in the back, hitting the head to the roof with every pump.
The tour guide was amazing, stayed super calm when we all got stuck several times and helped us out of there. In the afternoon we played some volleyball and at night we did stargazing at the beach – a really good day! Next day was a drive around the island, seeing some lakes and doing some walks, with a nice lunch break and then sadly it was time to go back to the main land again – and for us 3 even all the way back to Brisbane at night.
Beach Volley

The gang

The Trio
It followed a week of getting back down to work, as I didn't bring my laptop on the trip obviously. Did a lot of work for a new client (yeah!) and got up to speed with the rest. But after a week in the city I really needed to get out again so we did a trip to Noosa, beach town two hours north of Brisbane, and spent a beautiful day there, sunbathing and dolphin spotting!
Day Trip

Noosa

Sunshine Coast
Also saw Koalas for the first time at the Daisy Hill Sanctuary, where 4 rescued Koalas live a very quiet (sleepy) life now. They actually sleep 16-22h a day!! What a life…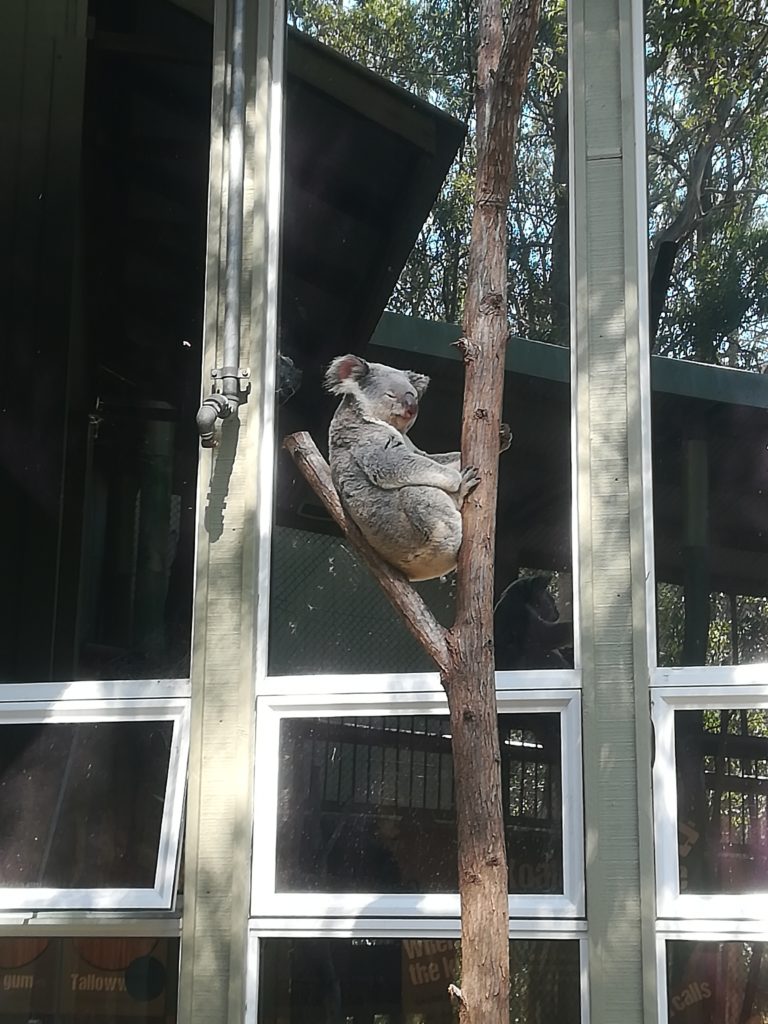 So two more weeks here in Brisbane with a lot of Zumba and then it's back to the beginning again: looking forward to a 3 week stay in BALI!!! Living the island life, slurping coconuts, doing yoga and meeting with old and new friends!