Escaping to Fiji
After 2 months in Bali I really really needed a change of scenery. Not only didn't I know what to eat anymore but the whole digital nomad scene in Canggu was kind of putting me off more and more. All asian countries were out of question as I would have the same problem with the food as in Indonesia and it was too early for me to go to Australia weather-wise, so where should I go? When I was asking myself that question I got back in contact with a friend in Fiji and he told me that he is gonna build a house on the island he was born – did someone say architect?! That sounded like a crazy enough idea to go for, so couple of weeks later I flew to Fiji.
I've been here for 4 weeks now, the first 3 weeks I spent on Koro Island helping to build the house and all what goes with it. The family up to this point lived in a tiny shack after the cyclone Winston destroyed everything in 2016. You can still find the leftovers from the old house by the beach, the former neighbors' house is still standing with of a couple of broken walls and inside you can find handbags and suitcases lying on the floor, like just a minute ago they wanted to take all their belongings before the first wave hit…
You listen to the stories from the people, from the survivors and you see the ruins all around and you still cannot imagine at all what they must have gone through and are still going through. Some have built up their houses on the hill after that but some are still living in small shacks, afraid to build a new home in case another cyclone hits and would take everything again. Koro was the island that was affected the most with 200+ people dying that day. Today the islanders sing their very own song "we have overcome, by the blood of the land and the word of the lord" and you can still hear the sadness of that day.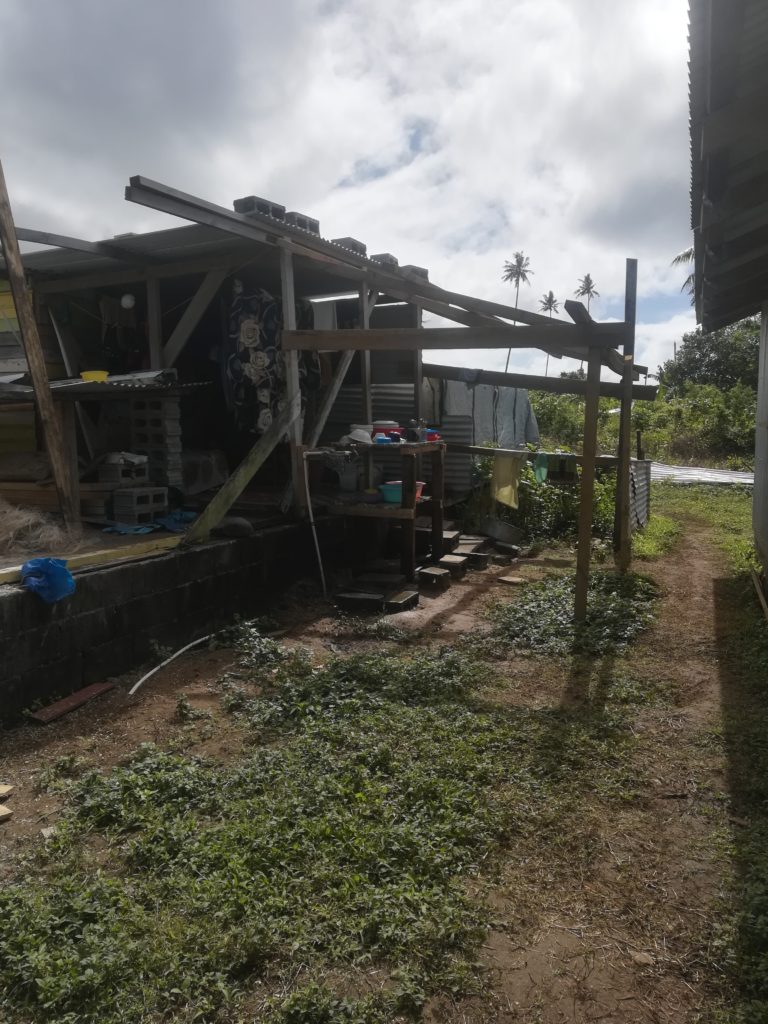 And then they sing another song and everybody is in good spirits again, making you laugh and pushing food down your throat! Seriously I can not be happier about the food I got here, I have never eaten this fresh and healthy, from the leaves of the trees right next to the house to the fish we catch nearly every day. Thankfully I put on weight again and after three weeks of working outdoor I finally have some muscles as well! Everyone has been super nice here, I couldn't ask for a better family and home away from home that's for sure. But back to the work: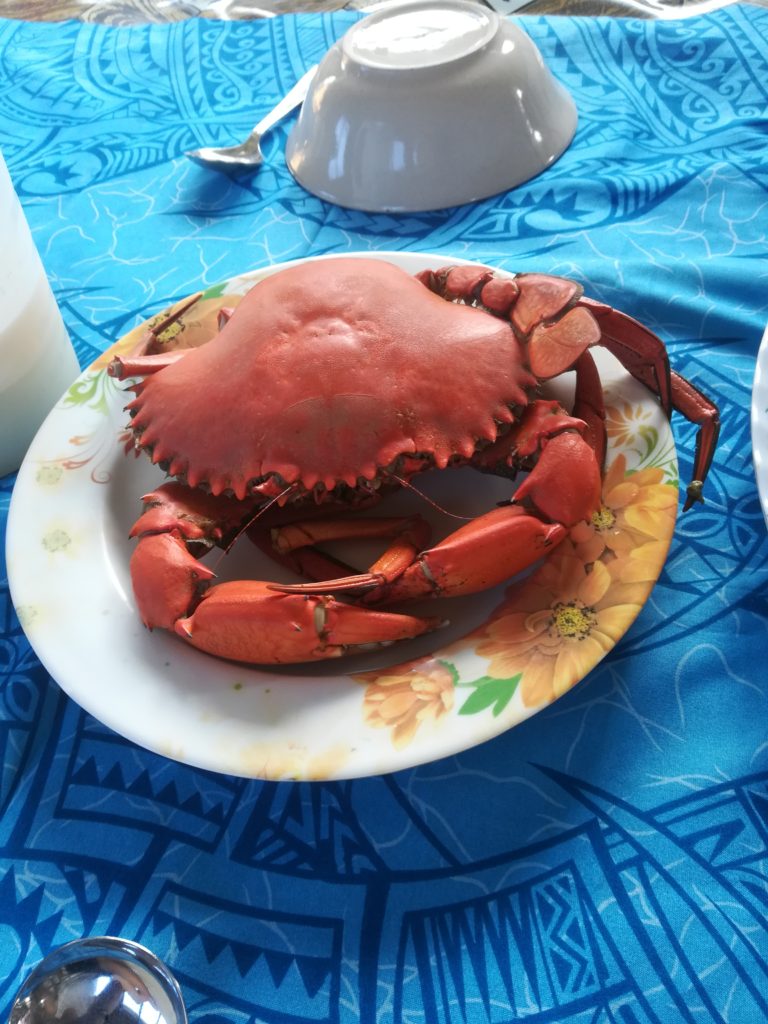 My first actual construction site after studying interior architecture and working in the industry for 2,5 years! And I had to fly around the world for that! But one thing I found out pretty quickly: it's nothing like building back home! There were no drawings, it all existed in their heads and most of the time it only popped up there at breakfast… No electricity, no screws, everything you fixate with nails; no work bench, you just cut the wood with the chainsaw right where you stand and no cement mixer, so you do the work mixing it with a spate yourself half the day. As annoying as it sounds and as time consuming as it was compared to the process I know, I enjoyed every minute of that! There is no better feeling in actually feeling the work on your body and seeing what you have done at the end of the day! In my second week I leveled the ground floor with soil and sand from the beach and that's how I made our beds – as we are sleeping on the ground – even more comfortable. You will shake your heads here but I'm telling you, sleeping on the ground is not that bad at all J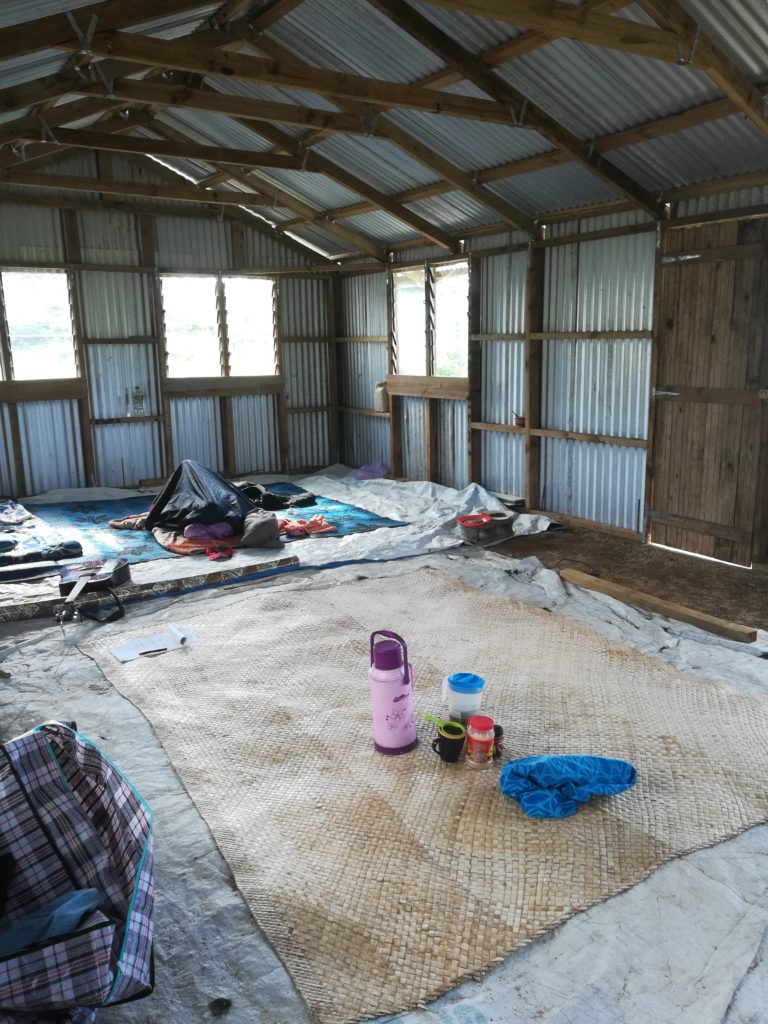 But building was not the only thing I did, we also had to help getting the food for our meals, as you make sure that you kind of earn every meal. So before breakfast you would maybe go to the farm aka jungle and pick fruits and roots, before lunch you would help with the house and before dinner you would check the net for any fish or crab! Yeah me – checking for fish – in the ocean?! If you had told me that last year I would have said you're nuts, but after those first couple of times when you get used to it, I wanted to do it again and again.
And then I went in at high tide and nearly drowned and also they spotted a shark close by, that's when I stopped asking for the job… But I'm still pretty proud of me, me and my Finnish sister actually caught a huge crab which was only hanging with one scissor in the net! You should have heard us screaming – or maybe you did! After that I went onto my next challenge: making fire! I have the patience of a fly so this one frustrated me the most and the first two mornings when I couldn't do it really pulled me down. But from the 3rd morning on I finally managed to light it and keep it burning for a couple of hours – I'm still not doing it perfectly right as the fire should be able to live on its own without me blowing into it for 1,5 hours, but hey I'm getting there. Did I mention you had to wake up for that at 4:30am?!
A good thing for me to learn here: stop complaining! Still tough on me coz when I have to walk through heavy rain at night getting all soaked, worrying about my phone getting wet or being in the water in the middle of a rainy night and getting all drenched from above as well, worrying about sharks – I DO complain. But two hours later I am laughing about it, so why complain in the first place? I know some people would never exchange their comfy beds and perfect kitchen for sleeping on the ground and making fire to heat the water, but I can only recommend to go back to the basics and appreciate everything you take for granted.
Another good thing what you learn here is living every day, without worrying about the next day or let alone the next week. I remember I used to live for the weekend back home and starting to feel depressed again by Sunday night. On the island I barely knew which day of the week it was except for Sunday, when it's rest and church day. But also during the week there was so much joy and laughter, overall thanks to a very cheerful Canadian and loads of silly Fijians 😀
At first all these things seemed super crazy, unnecessary or sometimes even scary to me (like going in the ocean to check the net in the middle of the night knowing that there might be sharks) but after a while you get used to everything, or even more you start to question the things you know and that you have taken for granted (like electricity) for all your life. My head sometimes explodes with comparing all the different things and approaches to what I have learned and been taught in my (almost) 30 years. Another good thing for me to learn here is that I don't get frustrated or moody when a plan doesn't work out – it's just the island way of life, it will happen another day or it won't happen at all and that's also fine, the world will still be turning. Fiji Time!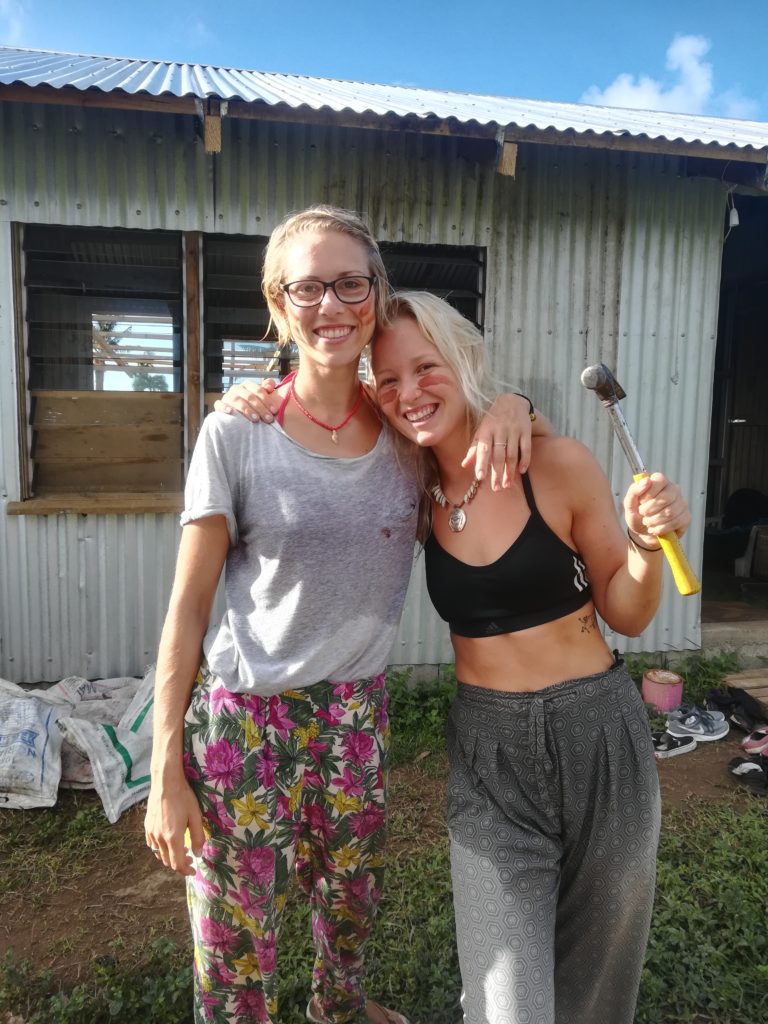 While being Jane in the Jungle it was pretty though to do all the online work I used to do in Bali. I struggled not only with the signal sometimes but also with focusing on the "other world" out there with which I needed to be connected. Luckily all clients understood and it wasn't that much work in the end. This is why I am on the mainland now, catching up on some work and also catching up with friends and family as I felt so detached from you guys while being on that remote island. But I can't wait to go back and get my hands dirty and seeing all the friendly faces of the islanders again. I have never met happier and friendlier people than in Fiji, and I have been here three times so I know. There have been days in the last week where I met 10 cousins and uncles only in one day and said "Bula!" 50 times on my way to the next village and back.
Looking forward to see what happened being away for a week, keep you posted!